on
October 20, 2010
at
7:21 pm
on
May 1, 2010
at
10:33 am
I know quite a few reading Wapsi Square are also cartoonists/artists and quite possibly looking to get books made for conventions and such.  Let's also say that you may not have access to a costly book making program that would be required at most printing companies.  Please check out KA-BLAM the ad on the lower right side of the Wapsi Square website.  Great prices, ease of service, and great products for all your comic, sketchbook making needs!
on
April 29, 2010
at
1:05 pm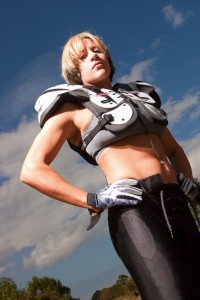 Meet Sally Maple.  No this isn't some fantasy photo shoot, Sally is a wide receiver, punter, kicker, and kick returner for the Palm Beach Punishers women's football team.  I don't know about you but I sure sense a strong Shelly vibe from this young lady!

  Want to know more about her and her journey to Stockholm, check out her blog!