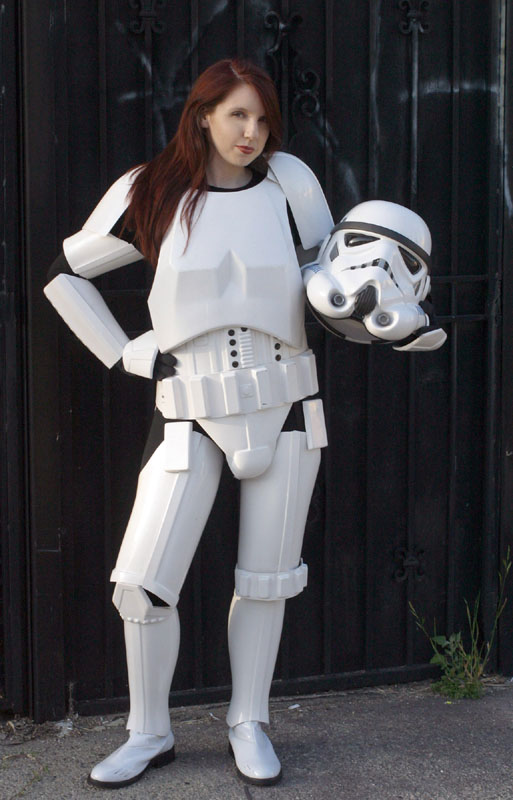 Wapsi Girls are multi-faceted. Every woman in this gallery has awesome traits and strength that make them a Wapsi Girl. Where do I fit in? After much thought, I realized that two parts of being a Wapsi Girl are being yourself and making your own way.
I'm a total geek. I have been for most of my life. People have tried to tell me what I should or shouldn't be or judge me based on my interests. For example, I love to play Dungeons and Dragons, read graphic novels, and wear Stormtrooper armor (that has yet to happen all at once, but one day!). But I am just as content to throw on a romantic comedy (A Good Year is one of my favorites) or read a Jane Austen book. I have actually had a fellow geek or two tell me that I can't be both a "girly girl" and a geek at the same time. Guess what? I can and am. It's not always easy to ignore the comments of society and just be yourself; I think we all struggle with that from time to time. I admit that I used to downplay the fact that I like the color pink in front of my male geek friends. But I soon realized it wasn't worth it. I can walk both sides, and I have no reason to hide it.
I've had lots of help along the way to become who I am today. I've also been incredibly lucky with connections from time to time. I don't want to discount those things, but I've also made a lot of things happen for myself. From things as simple as learning to make jewelry to more complicated (for me) like installing a dishwasher to getting a column in a quarterly magazine. I think a person can gain strength by teaching herself how to do things and making her own path. I am not discouraging asking others for help, not at all. But sometimes, help isn't immediately available. It's important to have the knowledge that you really can learn anything you want, which will lead to being able to do anything you want.
Amy Ratcliffe
geek with curves – http://geekfemme.blogspot.com
http://twitter.com/amy_geek