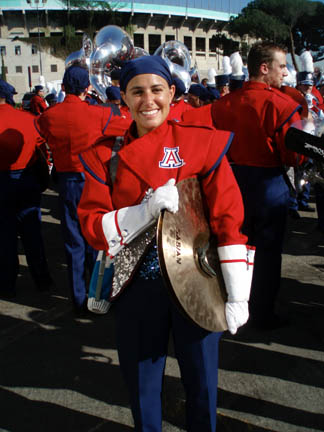 Jamie Bernstein
What is a Wapsi girl?
Although there is a lot of supernatural throughout the Wapsi Square story, the characters themselves are women who deal with real life issues and problems that almost anyone could relate to. There is a lot to be learned from the Wapsi women's lives and how they succeed in their own lives regardless of life's challenges. One particular theme that has come up often is that of passion.
Every Wapsi character seems to have one or multiple passions that makes her (or in some cases him) happy and helps her pull through difficult times. Monica is a history buff and even though her job at the museum may not be the best moneymaker, it makes her happy. Ever since she met Tepoz, she is actually able to live out the history that she has spent so long studying. Shelly is another great example of a girl with passions. She enjoys working in her dad's auto repair shop. Even though it is not considered a feminine hobby, it makes her happy and she can still destroy the stereotype by being a tomboy yet keeping her femininity intact. In addition, one of my personal favorites, Katherine, also has a love and passion that keeps her going, which is that of gardening. Although she spends most of her time alone, this allows her to take time to care for her plants and reflect on the world, something she does often. It is during these moments that the best of Katherine, her intimate, caring and thoughtful nature, is really expressed.
This theme of passions also shows up in Bud, Brandi and Jin's recent quest to attempt to fit in in this world. In a way they are searching for their passions and trying to figure out what it is that they love to make their new life a happy and cozy one. In their case, their drive to live a happy and normal human life conflicts with their historical/supernatural purpose to protect Monica and carry out whatever goal they have been entrusted with.
I have found the passions in my own life through music. From the start of my piano lessons at age 8, I have always felt a special affinity with music of all types. Over the years I've played clarinet, French horn and cymbals, and even once joined a choir and a dance group. There was no time in my life I was ever happier than when I was playing in my college marching band. Unfortunately, I did not choose music as a career, so like Bud, Brandi and Jin, I am constantly having to find ways to fit my passion for music into my life, even though I am continually bombarded by conflicting goals. As the Wapsi girls have learned, there isn't really much point to life if you do not follow your passions and give in to the things you love, even when it may be easier just to abandon it.
Speaking of abandoning passions, writing this has made me realize that since my graduation a few months ago I have not touched an instrument of any sort. I've always played in ensembles with other members, which makes it hard to do on my own. Plus I would just look silly playing cymbals in my living room. I do have an acoustic guitar that I never learned how to play sitting in the corner of my room. Perhaps its time I took on a new sort of instrument and continued doing the thing I love most.
Website: http://www.myspace.com/razela