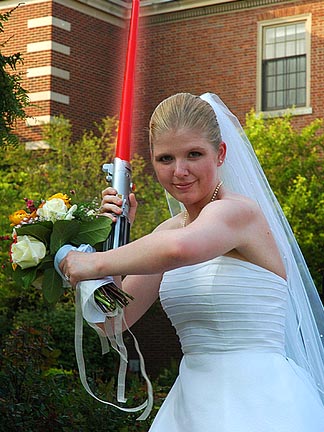 Katie Cook
What is a Wapsi girl?
What is a "Wapsi Girl"? Well, I think that the type of woman that Paul portrays in his wonderful work is a woman who is strong, free-willed, unique, sharp, fun and cute as a button!
So of COURSE I like to think of myself as a Wapsi kind of girl!
My name is Katie Cook… and I'm an artist. A cartoonist actually! There was a point in my life where my career took me down a path of medical and technical illustration (I've drawn both car schematics AND body parts for money!), but I made the decision while still in college to follow my heart and draw cartoons and comics… for the rest of my life!
It's not the easiest thing in the world, trying to make it as an artist, besides my freelance work I still keep a full-time job as the on-staff illustrator for a local studio. I have a mortgage to pay and kitties to feed! Luckily, I have a husband who is the best thing ever and supports my awful work-aholic habits of coming home from my job-job and working on freelance right up until midnight! One day, I'll be able to stay at home and freelance full-time, which is my current goal for myself!
I've done work for Star Wars, Lord of the Rings and a lot of other great titles. The list grows with every new project and I couldn't be more excited to be spending the rest of my life doing what I love.
It's a struggle (but a fun struggle!) everyday to make my goal of full-time artist a reality… but I couldn't be happier spending late hours drawing away and using my weekends and vacation days for comic conventions! I've met some of the greatest, most supportive friends ever along the way and I'm going to make it happen! My life is a blast and it gets better every weekend! Woo hoo!
Website: http://www.katiecandraw.com/