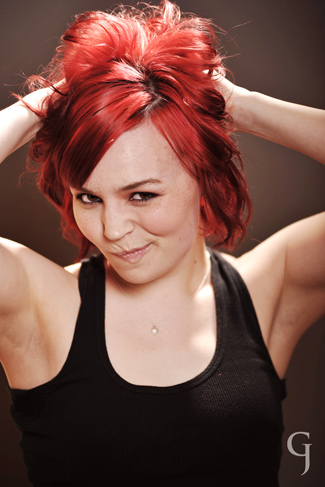 I think a Wapsi Girl is someone who knows herself. Even the ugly little things most people don't want to admit are there. But along with being able to admit your faults, it's about not being afraid to think you're kickass. We live in a strange time where it's easier to tear ourselves down than to just take a damn compliment. Be proud of who you are and what you can do.
I grew up in a puddle of a town where I was determined to hide under a rock because taking risks was scary. I used to be a very friendly kid but when I found out most girls at my school turned their noses up at video games and sci-fi or fantasy novels, I recoiled. I tried to share as little of myself as possible with them after that. It's stupid, I know. NOW, I know. Still, I could write, sing, act and the most terrifying thought ever was the idea that someone would find out. I didn't want them to have any more reason to tease me. I don't think people remember how important that is to a kid.
Then we moved. We moved where no one knew who I was or that I'd been the shy wallflower through grade school and I said 'Fuck it'. I didn't care who judged me, I constantly put myself out there. And yeah, I have been burned a lot because of it… But I think I've been infinitely stronger and happier too.
I think a Wapsi girl embraces who she is. She'll admit when she missteps but she won't apologize for who she is either. A Wapsi girl says, "This is me and what I love" and is ready to give a black eye to anyone who stands in her way. A Wapsi girl looks risks in the eye and says "Fuck it."
I have recently found a new freedom in the phrase, "Fuck it." Life is trying to prevent you from doing what you love, who you are? Fuck it. Fuck it all. Just do it.
The regret from never trying will always be far worse than if you do and it doesn't work out.
http://www.amazon.com/Kiri-Callaghan/e/B006CPR35M
http://twitter.com/KiriCallaghan
http://kiricallaghan.com