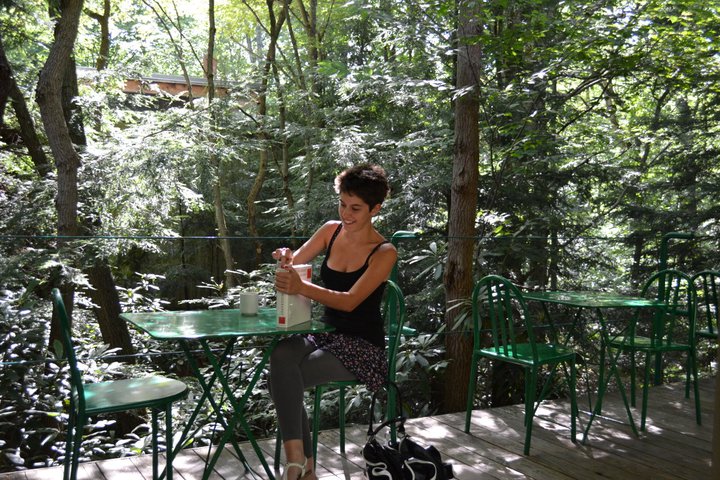 What is a Wapsi Girl?
When I came across Wapsi Square, I remember being amazed at the range of women in the comic. There was a little bit of every type of women: personality, size, shape, ethnicity, race, whether or not we're a composite of demons (maybe not that last one…). Wapsi Square is one of the best comics around for showcasing women in a way that highlights our assets, and doesn't just stop with the physical ones. As a woman who loves comics but doesn't always find herself portrayed in them, that's a big deal for me.
And that range of women? That's what a Wapsi Girl is. The characters in the story aren't perfect, but they're real women. They're strong when they need to be, they're there for each other, they're funny and serious and scared and courageous and principled and they drink a lot of coffee – my kinds of girls, in a nutshell. A Wapsi Girl is you, and me, and my little sister and your aunt and her best friend.
So what makes me a Wapsi Girl?
I'm a passionate person. Anyone who spends enough time with me to get me talking will find that I have an opinion about everything from light bulbs to the role of media in our lives, and that sharing my opinion is not something that scares me. I'm also not afraid to be wrong, which is something that I've found helps me learn more than almost anything else. I recently finished getting a BA in creative writing after only 3 years of study, so the idea now is to share my opinions in a way that gets eyes on the page. And pay off my student loans.
I just finished up a major month-long project for Already Gorgeous. AG is all about women's bodies in a society that is obsessed with making them skinnier, tanner and more invested in their appearances than their personalities. That project focused on news media, and the number of articles published every day focusing on women's bodies.
In addition to the projects I work on independently, I'm also an editor. I work with multiple publications, including Line Zero, which is part of Pink Fish Press, and Midwestern Gothic (I'll wait here while you go check them all out). I spend a lot of time on Twitter mouthing off about politics, sexism, religion, coffee, books and my cats (you can find me there @the_author_) and actively working to root out, expose and fight injustice and misinformation wherever I see it.
alreadygorgeous.com
Twitter
Pink Fish Press
linezero.org
midwestgothic.com